The Definitive Guide To Spring Bank Holiday Gardening
The last bank holiday in May is traditionally a time to think about preparing your garden for summer time. If you are planning to visit the garden centre on your day off, our definitive guide to spring bank holiday gardening, will help you to spend your time and money wisely.

Here are some of the jobs to do for the late spring bank holiday.

• Plant out tender bedding plants.
• Fill pots, planters and hanging baskets for a colourful summer display.
• Mulch beds and borders to retain water.
• Feed your lawn.
• Start a vegetable garden.
• Feed the birds.
• Take care of garden furniture.
• Give fences a coat of preservative.
Pep Up Your Borders With Some Tender Bedding Plants
Wise gardeners will wait until the risk of frost has passed before bringing tender plants into the garden. As a rule of thumb, the late spring bank holiday, which falls at the end of May, is the ideal time to do just that. Now is the time to bring out the fuchsias, dahlias, bananas and cannas that have been resting in your greenhouse over winter. And it's also time to pick up some annual plants from the garden centre.
Tender annuals such as marigolds, cosmos, sunflowers and begonias offer a dazzling display of colour all summer long, particularly if they are regularly deadheaded. However, impulse buying at the garden centre can cost you dear. Try to make a plan before you go and only buy what you think you'll need. You can always nip back later if you don't have enough!
Think about your colour scheme, where you want to place your plants and what conditions they will be growing in. Trying to grow sun lovers in the shade, or vice-versa will lead to disappointment. A little bit of research will narrow down your plant choices and help you to avoid expensive impulse buys. When you go to the garden centre, look for healthy plants with plump leaves and sturdy stems. If you are looking for flowering plants, the ones that have lots of buds represent better value than those that are already blooming.
Naturally you'll want to bag a bargain. Bear in mind that garden centre staff are generally experts at nurturing the plants in their care. They want to ensure that customers receive robust, healthy specimens. Supermarkets and DIY stores may not have the same skills sets.
Pots, Planters and Hanging Baskets
Designing pots, planters and hanging baskets is a fabulous spring bank holiday gardening project. Not only are they great for brightening up a dull spot in your own garden, they make fantastic gifts too. If you have any National Garden Gift Vouchers to spend this weekend, we'd highly recommend investing in some frost proof planters, peat free compost and a selection of plants that you absolutely adore.
For a classic look, a single evergreen topiary piece within an elegant planter is perfect. Place one either side of a doorway. Pelargoniums are a traditional plant for window boxes. Savvy gardeners will know that these plants can be brought indoors for the winter and used again year after year, which of course, saves you money.
Hanging baskets take your gardening to another level and they are ideal for small spaces. They take up no floor space at all!  If you are not confident that you can successfully fill a hanging basket with plants, most garden centres offer pre-filled baskets. And some even have a planting service where they will refresh your baskets from last year.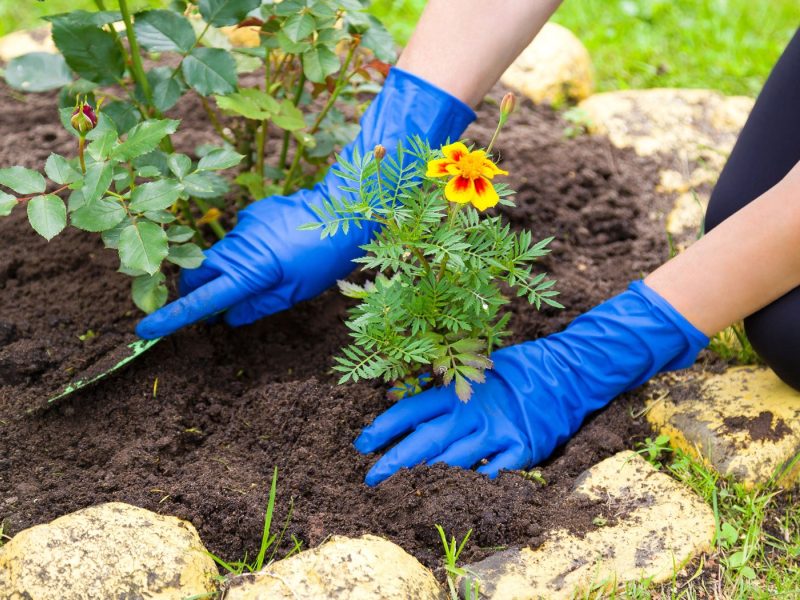 Mulch Mulch Mulch
It's not a particularly glamorous material to be spending your National Garden Gift Vouchers on, but mulch is probably one of the best investments you can make in your garden.
Of all the Spring bank holiday gardening jobs there are, mulching is one of THE most important. Why? Because it benefits the overall health of your garden and it saves you work in the long term.
Mulching is simply the act spreading a layer of peat free compost, rotted manure, leaf mould or wood chip on top of the bare soil around plants and trees. It replicate's Mother Nature's own system of recycling spent vegetation into plant nutrients. But not only that, it helps to retain soil moisture, represses weeds and makes your plants look amazing.
Lawn Feeding
If you took part in No Mow May your lawn you might be thinking about trimming back some of the long grass. On the other hand, if you are enjoying the sight of all the vegetation and wildflowers swaying in the breeze, there's no reason why you can't leave things alone until the grass becomes straw like and starts to fold over on itself.
For manicured lawns however, it's definitely time to apply feed. Choose a lawn feed that has been specially formulated for spring and summer use and follow the manufacturers instructions to the letter. If you are new to lawn care, ask your garden centre staff for advice.
Feeding your lawn now, will help the grass plants to grow strong healthy roots and this, in turn will help keep your lawn greener for longer during a hot summer.
Start A Vegetable Garden
Crunchy fresh vegetables taken straight from your garden and onto your plate are just bursting with nutrients and flavour. And of course, any excess that you grow can either be frozen to eat in the winter time, or given to friends and family as gifts.
Some vegetables are quite tender and so it's wise to wait until the end of May to put them outside in the garden.
If you are a first time veggie grower, investing in raised beds will make the work easier. Square foot gardening will enable you to grow a wide range of crops, from salad leaves to beets to cauliflowers and courgettes all in the same bed.
Tomatoes, peppers, chilli's and cucumbers are rather fond of the warmth and protection of a greenhouse. If you don't have one yet, your garden centre will likely hold stock of small, affordable greenhouses that you can easily assemble in less than an hour.
Feed The Birds
Not every aspect of spring bank holiday gardening needs to be hard work! Watching the wild birds that you have attracting to your garden can bring so much pleasure for the minimum of effort.
Your garden centre will likely have a wide range of feed and feeders for you to choose from. Mealworms are a big favourite with robins and blackbirds, whilst bluetits find it difficult to resist suet feeds. You can even buy 'no-grow' bird seed to ensure that nothing that gets dropped turns into a weed.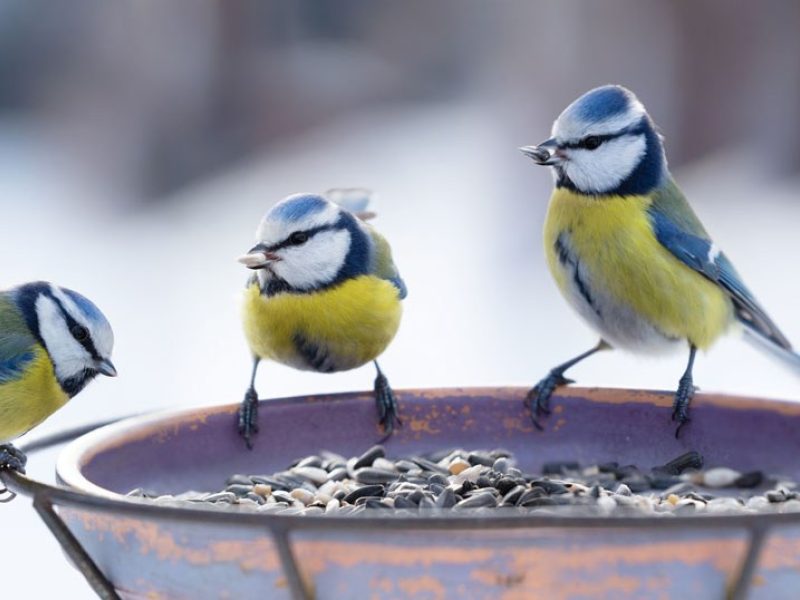 Taking Care Of Garden Furniture
Garden furniture can be quite a large financial investment so its important to keep it in good order. Your spring bank holiday gardening job list should include washing garden furniture with a solution of eco friendly washing up liquid and water. And then, when it's dry, treating it with a suitable preservative.
Other than cleaning, synthetic rattan needs very little by way of maintenance. However natural rattan furniture and timber chairs and tables will welcome a coat of boiled linseed oil to prevent cracks. Simply apply with a brush, leave it to soak in for an hour or so and then use a soft cloth to remove any excess.
Revive Fences
If your garden fence is looking a bit tired, it's not too difficult to perk it up. Composite fencing can be cleaned with a solution of eco-friendly washing up liquid in water. It doesn't take long and it makes an enormous difference to its appearance.
Cedar or larch fencing is self-preserving and naturally weathers to a soft grey colour. Running a soft brush over it will remove any unsightly dust and cobwebs.
Timber fence panels however, will benefit from a coat of preservative. Most garden centres offer a large choice of wood treatments in colours and price points. But before you start splashing preservatives around, check who owns the fence. If it belongs to your neighbours you cannot make changes to it without their permission.
Finally: Relax
Gardens should not be all about work, and whilst some people find spring bank holiday gardening a joy, it's important to make time to appreciate your work. Why not end the day with a cup of tea and a slice of cake to celebrate what you've achieved. Even better - while you are at the garden centre, pick up some charcoal for the barbecue and finish the bank holiday weekend with a delicious, outdoor cooked feast.
Here's what to expect from your garden in June. https://nationalgardengiftvouc...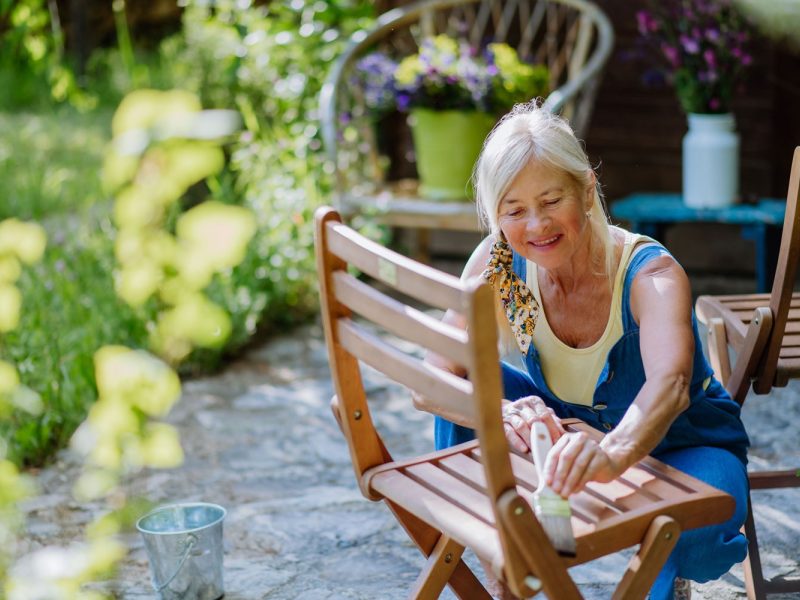 Here's what to expect from your garden in June. https://nationalgardengiftvouc...