Father's Day Gift Ideas for Dads Who Like Spending Time In The Garden
We've put together some Father's Day gift ideas that chaps who like spending time in the garden will be glad to receive. Maybe the important man in your life is an enthusiastic gardener, who spends as much time as possible surrounded by vegetation and soil? Or perhaps he prefers to relax in the garden and enjoy some much-needed headspace? No matter how your father figure likes to use his outdoor space, you can be sure of finding a suitable Father's Day gift in your local garden centre.
Gifts For Gardening Dads
If your Dad loves gardening, the chances are he's already got every hand tool and accessory he could possibly need. Gardening tools are quite an investment and can be expensive to replace. So a Father's Day gift to help him look after his garden tools would be well received. How about a blade sharpener for shears and secateurs? Or perhaps a hanging rack to help store tools safely?
If you want to be really practical - there's barely a gardener in the world who wouldn't be delighted with a gift of well rotted manure. Good luck wrapping it up and putting a bow on it! But honestly, good quality manure or peat free compost, used as a mulch is a godsend for anyone who wants to protect their plants from drought. And you can never have too much of it!
Is your avid gardener at an age where his body is not as mobile as it used to be? It's well worth chatting to garden centre staff about tools with special features that make them easier to use. Long handled trowels and shears for example mean less bending and stretching.
The simplest gardening aid for anyone with creaking joints, is a garden kneeler. Most garden centres stock a range of kneelers, including those that have handles to make getting up and down more comfortable. A handy tool bag attached to the kneeler makes life even easier.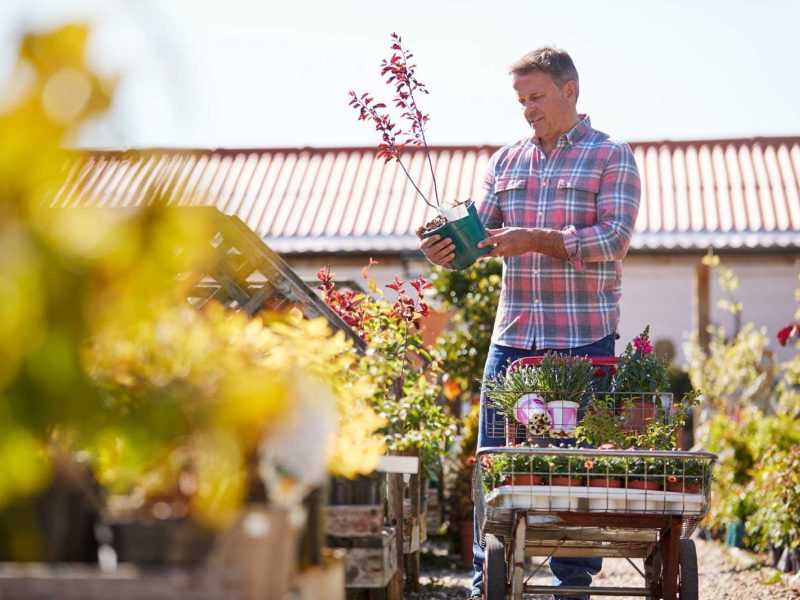 Father's Day Gifts For Men Who Need To Relax
Everybody deserves a bit of relaxation time in the garden. All too often men's mental health is put on the back burner but that needn't be the case for the man in your life. Spending time outdoors and surrounded by nature is a brilliant way to boost wellbeing.
How about treating him to a really comfortable garden chair? Somewhere so that he can sit back, relax, and enjoy a cup of coffee and a good book. You'll find plenty of choice in most garden centres. And if your budget allows you could buy a second chair so that the two of you can relax together on Father's Day.
Fathers Day Gifts For Every Fellow
A good sun hat is essential for warm summer afternoons. Whether he is working in the garden, or enjoying a ploughman's lunch in the garden of his local pub, the portable shade of a good hat will help protect him against sunstroke. A traditional straw hat will suit most people, and of course, you can't beat a good bucket hat - one that he can screw up and push into his pocket when he's not wearing it.
What is the one thing that defines how much time anyone wants to spend out doors? The weather of course. Weather stations come in all sorts of sizes and designs and can be a fascinating addition to any garden. If your main man is a fan of technology, he might appreciate a wifi enabled weather station so that he can use an app to monitor conditions in his garden. It's the perfect partner to a smartphone controlled irrigation system. He will be able to water his tomatoes even if he's miles away from home.
Most parents want nothing more than to spend quality time with their children. So how about taking your VIP to the garden centre for lunch on Father's Day? Or, if that's not practical, most garden centres have a food section where you can gather tasty indulgences for a picnic in the garden. Local cheeses, luxury crackers, some pickles and maybe even some sweet treats too.
Could This Be The Ultimate Father's Day Gift?
If we've not been able to inspire you with our gift ideas, there is one more. And we're absolutely certain that any man will appreciate it, because it's so incredibly versatile.
A National Garden Gift Voucher can be spent in almost any garden centre in the UK and will allow the man in your life to choose his own gift from an enormous range of possibilities. He could buy plants, books, tools, seeds, pots, wildlife food, ornaments, outdoor clothing….the list goes on.
National Garden Gift Vouchers come in several denominations and you can buy them online.
You can even have them sent directly to your father figure's address if you won't be able to see him on the day.
Click here to learn more. https://store.nationalgardengiftvoucher.co.uk/NationalGarden/ByPost
Buying Plants for Father's Day? - Here's what looks good in June https://nationalgardengiftvoucher.co.uk/inspiration/articles/june-plants-of-the-moment