Discover The Joy Of Gardening In Autumn
Gardening in autumn is all about making the most of the mild weather, the soft light and the beautiful colours that the season has to offer. Yes, there may be some calorie burning jobs to get done. But there should also be time to relax and immerse yourself in the joy of gardening in autumn. Here's how to do it.
Visit one of the many gardens open to the public to seek inspiration for design ideas
Take a walk in nature and pay attention to detail
Attend a foraging masterclass and think how your own garden could be more productive at this time of year
Visit a garden centre that's new to you. Stop for a coffee and browse their displays for ideas
Plant containers with spring flowering bulbs
Pick a posy from your own garden - you'll be amazed at the array of flowers, foliage and seed heads that are still looking good. Use some of them to make a door wreath
Challenge yourself to take at least one photograph of your garden every day for a month
Start feeding the birds
Fill your hanging baskets with winter flowering plants and evergreen foliage
Plant a beautifully scented shrub such as Sarcococca close to an entrance or a pathway, it will encourage you to spend more time outdoors.


Seeking Inspiration from Others
One of the joys of gardening is that every outdoor space is unique. Each gardener has different ideas for colour combinations, blending textures and creating wonderful vistas within their plot. Gardening in autumn is not about 'putting the garden to bed', it's about embracing seasonal differences and preparing for spring and summer.  Visiting open gardens is a great way to find inspiration for your own plot. Stately homes, municipal parks and botanical gardens have been carefully designed to provide year-round interest. Their gardeners have a keen eye for colour and texture.  As well as planting schemes for beds, borders and containers, a visit to someone else's garden will reveal ideas for outdoor features that make a garden feel more comforting on cooler days. Things like intimate seating areas that are sheltered from the breeze; water features to bring sound and movement; fire pits; or gentle lighting to entice you out of the house after sunset.
Keeping Your Garden Productive Through the Season
What could you be harvesting from your garden in autumn? An expert-led foraging session could give you some new ideas for your own plot. Autumn fruiting raspberries, blackberries, damsons, nuts even edible fungi are very much in season in our fields and hedgerows. But wouldn't it be more convenient if you could nip into the garden and pick your own?  If you can't find a foraging workshop near you, your local garden centre will have ideas for fruit bushes and trees to plant in your garden. This time next year you could be making jams and chutneys from your very own garden produce.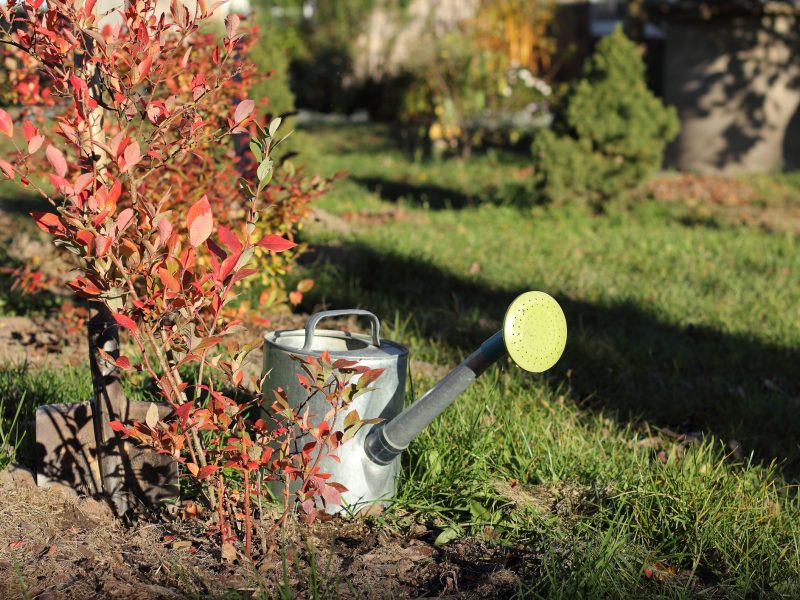 Preparing For Spring
Gardening in autumn traditionally includes planting spring flowering bulbs and bi-annual plants for early summer colour. This year, why not try something different? As well as the crocus, muscari, daffodils and tulips you normally plant, spare a thought for more unusual species. Your garden centre will likely have some intriguing bulbs and corms that are well worth a try. For example you may want to include the following plants into your garden:
Eranthis hyemalis "winter aconite". Low growing beauties with glorious yellow flowers that open very early in the year. They're great in pots or for naturalising beneath trees and shrubs.
Erythronium Pagoda, otherwise known as the dogs tooth violet. They have glossy foliage and pretty flowers that look like tiny lilies. Guaranteed to make you smile. 
Chionodoxa are delicate spring flowers that thrive almost anywhere. They are adored by pollinators and provide a welcome meal for queen bumble bees as they are emerging from hibernation.
Get Creative
It's no secret that creativity is good for our wellbeing. You may not feel that your efforts are instagram-worthy but it's the process of making things that gives our brains a dopamine hit. The autumn garden has plenty to offer if you look closely enough.
Choose a feature or a view and make a painting. Sitting outdoors with your sketchbook on a mild day can have a remarkable effect on your sleep
Pick a posy of flowers, foliage, twigs and seed heads and arrange them in a vase or jam jar. It's a simple activity but it gets you out of doors and lifts your spirits

Involve your children in gathering colourful fallen leaves to make a collage or an autumn wreath for your front door
Learn how to preserve flowers by drying or pressing them. You'll be able to use them in soaps, bath bombs, home made cards and as winter decorations
Build something practical to help wildlife. A log pile, a bug hotel or a compost bin
Decorate the inside of your shed or summerhouse to turn it into a winter retreat.
Bag Yourself a Bargain
Last but not least, one of the greatest joys of gardening in autumn is the opportunity to bag a bargain. At this time of year, the garden centres are thinking about changing their displays.  Herbaceous perennials will be entering their winter dormancy period when they temporarily lose their good looks. The clever gardener, however, knows that the plants relegated to the 'reduced' section are not half dead, instead, they are pots of promise. Read the labels and decide if you have room for any of them in your garden.  Gardening in autumn can be a truly joyful experience and one that will boost your wellbeing as the nights draw in and the temperature falls. We hope that our little article has inspired you to pull on your warm jumper and head outdoors for a little while.
More Ideas For Gardening In Autumn
Click here for more autumn gardening tips